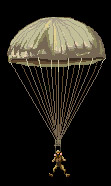 Chutes drops paratroops from a trusty Dakota aircraft. The parachutes are generally reliable but not all in this classic screensaver are as carefully packed as they might be! This new version 2.0 of an old favourite has been lovingly restored and digitally remastered in 32-bit code to run properly on Windows 95, 98, ME, NT 2000, XP, Vista and 7 so all those people who have been asking for it for years can now have it... thank you for your patience!
This new version of Chutes costs just $15 (around £10 or 12 Euro) to install on your PC. To get it, download and run the SETUP program and then use the activation option to buy an activation code on-line on the web. It's easier done than said, takes a just few minutes and won't do anything funny to your system. More information...
Chutes version 2.0 SETUP program (0.3Mb)
Requires $15 activation via Paypal once installed
30/1/2021: New version This page now has a new version Chutes which addresses an issue that some people have been unable to activate the program on modern Windows systems. This version includes an experimental workaround for the issue which appears to work for the people who have tried it so far. If you have had difficulty in the past with activating Chutes, you are welcome to download and install this new version and try it.
(C)Copyright 1994-2022 Strange Software Limited. All rights reserved.