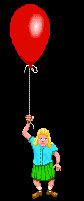 A blast from the past, Balloon Girl floats a young lady dangling from a red balloon across your screen when your PC is idle. Occasionally, the balloons burst (which can be quite unnerving if you leave the sound on and aren't expecting it) but our plucky heroine has a trick or two up her sleeve...
This new version of Balloon Girl costs just $10 (about £6.50 or 7.50 Euro) to install on your PC. To get it, download and run the SETUP program and then find the program in the Display... Screensaver options section of the Control Panel and use the Settings... Activate optiojn to buy an activation code on-line on the web. It sounds harder than it is to do and takes all of a few minutes. More information...
Balloon Girl version 2.0 SETUP program (0.4Mb)
Requires $10 activation via PayPal once installed
(C)Copyright 2011 Strange Software Limited. All rights reserved.